Helping people live independently
in South Lanarkshire


Care & Repair in South Lanarkshire work with older people and those with disabilities, helping them live independently
At Care & Repair we aim to to help you Repair, Improve or Adapt your home to allow you to remain safe, secure and independent in your own home and in your own community.
Help when you need it. Comfort and security at all times.
Care & Repair South Lanarkshire offers a wide range of practical services and advice that allow elderly and disabled people in our community live independently. With the additional help we offer people can enjoy living with more comfort and security in their own homes. Working with your Occupational Therapist we'll help to repair and adapt your home to meet your needs. We'll give you all of the help and advice you need to stay happy and safe at home.
You are able to use the Care and Repair Service if you or someone who lives with you is a home owner or are a tenant of a private landlord 65 or older or is living with a long-term health problem or illness.
The services offered by Care and Repair can:

Disabled Aid and Adaptions
Care & Repair specialise in supporting people who require adaptations and alterations to their homes.

Make a Donation to us
You can help make a real difference to local people's lives by making a domation to Care & Repair.

Assistive Technology
Care & Repair install a range of specialist telecare and Keysafe equipment for SLC Social Work department.
Read our Latest News
You can stay up to date with our news and service updates by reading the Care & Repairs News Blog.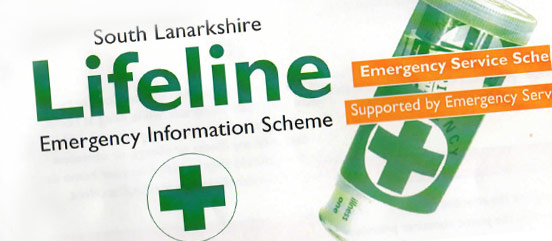 South Lanarkshire Lifeline Scheme
Lifeline is a voluntary scheme intended for use by anyone who feels vulnerable while living at home.
The scheme provides emergency services with vital details of any illness or allergy you have and the contact details of someone who knows you should they be called to your home. READ MORE >> 
Safe as Houses safety initiative
South Lanarkshire Community Safety Partnership, Care and Repair and Police Scotland have combined to promote 'Safe As Houses', a community safety initiative that aims to benefit those most in need. The initiative a variety of home safety and security measures, supplied and fitted free of charge, that help with crime prevention. READ MORE >>
Can you volunteer to help?
If you want to give something back to the community and are good at general maintenance work you could really help make a difference by volunteering for Care and Repair South Lanarkshire
You can claim all out of pocket expsenses you're fully insured, and you would get all of the help and guidance you need. READ MORE >>
Small Repairs Service Survey
At Care and Repair in South Lanarkshire we are asked on a daily basis for assistance with small jobs that people need help with.
These jobs are generally too small for a Tradesperson to be interested in working on but are needed to enable people to continue to live comfortably in their own home.
We would like to start a Small Repairs Service that would address this need and would like to seek your views on this project. This Service would provide practical help with odd jobs and small repairs around the home, which you might find difficult if you are older or have a disability.
To access the survey please click here.