We are not engaging volunteers at the moment. Please follow this page for the latest updates.
Become a Care & Repair Volunteer
Care & Repair is a registered charity carrying out valuable work with elderly and vulnerable people in Lanarkshire. We rely on help from volunteers to carry out general household repairs.
Our volunteers speak of the sense of satisfaction that their volunteering brings them, knowing that they are directly helping improve the well-being of people who really need helping hand.
We have volunteering roles available for people with good general construction skills who can provide a wide range of general household maintenance tasks such as fitting doors and locks, small plumbing jobs, fitting curtain rails, replacing lighting, installing draught-proofing, handrails etc…
Our volunteers can claim any out of pocket expenses that they incur and are fully insured for any work they carry out. Training will be provided outlining what you are expected to in your volunteer role and there's always advice available should you be unsure about any situations that arise.
We also would appreciate help from people who can help with fundraising, marketing and leaflet delivery.
Giving something back to your community can be incredibly rewarding. If you have the time and the skills we need please get in touch.
Do you want to find out more about volunteering for Care & Repair?
Simply fill in the form below and we'll be in touch or call us anytime during office hours on 01555 666200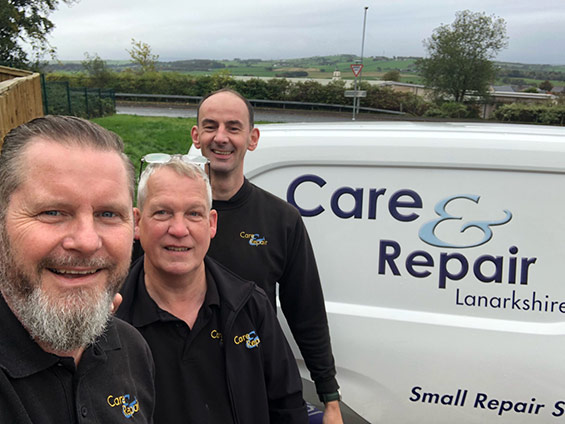 "Both my mother and I found the whole process easy and helpful. All staff involved could not have been more helpful or considerate throughout the process from start to finish. This was particularly of use when completing some of the forms to claim financial assistance."
Mrs B, Larkhall