About the Care and Repair Service
Care and Repair is an independent charity based in Lanark covering all of South Lanarkshire. We provide a free and confidential service to those who need information, advice and practical help with carrying out adaptations and repairs to their home.
This service is funded by the South Lanarkshire Council and NHS Lanarkshire. You are able to use the Care and Repair Service if you or someone who lives with you is: A homeowner or are a tenant of a private landlord 65 or older Living with a long-term health problem or illness.
THE CARE & REPAIR STORY
1987: Care and Repair started in Scotland with the aim to improve the quality of people's lives that are living in poor accommodation. There are currently 30 C&R services in Scotland and over 300 in the UK and similar services in exist in Ireland, Canada & Australia.
1996: Care and Repair started in South Lanarkshire managed by Shelter for a short time and the by Clydesdale Housing Association.
2004: We became an independent charity with a Board of directors and have been operating independently since then.
2017: We successfully tendered for a 3 + 1 year contract with South Lanarkshire Council to deliver Disabled Adaptations and a Repairs and Maintenance service across South Lanarkshire.
2018: New Board Chair and a new manager.

"This is an excellent service for older and vulnerable people. I now feel more secure both when at home and when away. Thank you so much for your kind assistance."
Mr F, Hamilton
"My appreciation to all concerned for an excellent service provided. "
Mr M, Biggar
Our Team
The staff at Care and Repair are friendly, approachable and want to help. Get in touch with us to find out what we can do for you or someone you know who needs help.
Jamie Burgess
Care and Repair Manager
I worked with housing in some form or other over most of my working life and I first became aware of the Care and Repair Service some 20 years ago when I was involved with the setting up of the Sutherland Handy Person Service which was managed by Care and Repair. 6 Years ago I joined the Dumfries and Galloway Care and Repair Team as an Adaptions Officer and then managed the team as the team leader for the last 4 years.
I was fortunate to be accepted as the manager of the South Lanarkshire Care and Repair Service in June 2018 and have been working with the team here since then delivering the Medical Adaptations required to allow clients to remain at home, the Repairs and Maintenance service the help clients with the upkeep of their homes, the Telecare service and the Safe as Houses Project.
Candice Hill
Receptionist/Administrator
I have worked in Reception, Customer Care & Administration roles for around the past 20 years. I have vast experience on the phones, Customer Service, people skills and administration. It is in my nature to help others. I started with Care & Repair in June 2010, and I was delighted to receive this role. I speak to people and help clients over the phone, and also face to face, to help & assist them with their queries & needs in regards to helping them towards feeling most happy & secure in their homes. I love Care & Repair, and hope to continue working here for many years to come.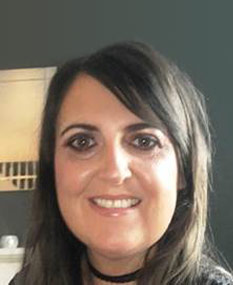 Carly Richardson
Administrator
I have worked in various admin roles for over 27 years, mostly in customer service, and I love what I do. I had never heard of Care & Repair before I started here nearly 7 years ago in November 2012, and I now make it my mission to spread the word about what we do here! I assist our C&R Officers with tender and grant application paperwork for the adaptation process and also process the Telecare and Key Safe referrals which we receive from SLC, as well as many other duties.
I find it very fulfilling when you speak to a client to reassure them that we can help them through the whole adaptation process – you can almost hear the sighs of relief at times and, just recently, one client said he can now go on holiday and enjoy himself, knowing that he doesn't have to worry about it!
Care & Repair Board Members and Advisors
Member: Alex McInnes
Advisor: Alison Graham (SLC)
Member: Councillor Catherine McClymont
Advisor: Craig Cunningham (NHS)
Chair: Councillor David Shearer
Vice Chair: Councillor Jim McGuigan
Member: Councillor Josh Wilson
Member: Kate O'Connor
Advisor: Kenny Barbour (SFRS)
Member: Michelle Mair
Member: Roy Plenderleith
Treasurer: Tom Sorbie
Care and Repair Team
Alistair Russell: Care and Repair Small Repairs Office
Audrey Marshall: Care and Repair Officer " "
Carly Richardson: Care and Repair Administrator
Candice Hill: Care and Repair Receptionist
Jamie Burgess: Care and Repair Manager
John Burrough: Care and Repair Small Repairs Office
Ross Duncan: Care and Repair Officer
Useful Links
We work and partner with a range of organisations who can also help you. Click on any of the below to visit their website.